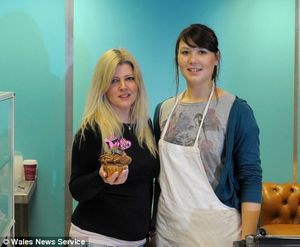 Sally Dodd has worked as a pub landlady. She has broken up drunken brawls and calmed the high spirits of armies of tanked-up Welsh rugby fans. But nothing prepared her for the day this week when a female customer ran amok in her genteel cupcake shop.
Mrs Dodd, 43, owns Sugarswirlz, a bakery selling decorated homemade cupcakes in an airy Victorian arcade in the centre of Cardiff.
The shop was full of lunchtime customers when a woman - middle-aged, sturdy and wearing a belted mackintosh - launched an extraordinary attack.
She lashed out at a display of cakes, sending them flying through the air, then flung her arm across a window display, scattering its contents around the shop.
Then events turned from farcical to terrifying. She grabbed Mrs Dodd by her hair, pulling it out by the roots in clumps, and launched a foul-mouthed tirade of abuse.