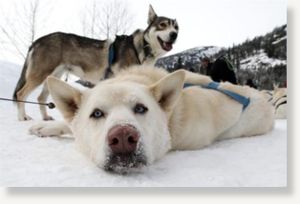 An official of the SPCA in British Columbia says word of a slaughter of sled dogs in Whistler warrants a criminal investigation.
Marcie Moriarty, general manager of the group's cruelty investigations, says the description of the April 2010 incident is an "absolutely criminal code offence," although there is no indication a police investigation is underway.
Documents obtained by CKNW radio reveal about 100 healthy sled dogs were killed in a mass slaughter in Whistler last April 21 and 23.
According to the WorkSafe B.C. documents, an employee of Outdoor Adventures Whistler has been compensated for post-traumatic stress disorder after being ordered to shoot the animals.