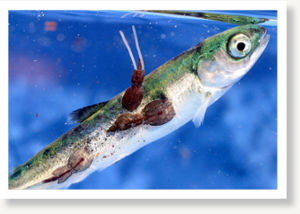 Last month, 138,000 farmed salmon escaped from feedlots on the New Brunswick side of the Bay of Fundy, a fact that scarcely caused a ripple in the Maritime consciousness. Elsewhere - in Norway, Scotland, Chile, British Columbia - salmon farming is a highly controversial industry. Here it seems to skate along smoothly under the radar.
Salmon farming is controversial for two main reasons. First, it is a highly inefficient way to produce food. Producing feed for farmed salmon intensifies the pressure on other fisheries around the world. In effect, the process turns four kilograms of wild fish into one kilogram of industrial fish. How clever is that?
Second, salmon farms have horrible effects on the marine environment and on wild salmon. A salmon cage consists of an outer layer of netting to keep predators out, and an inner layer to keep salmon in. But parasites, bacteria, viruses and chemicals can move freely in and out of the cages - and, like all intensive industrial food production facilities, the salmon cage holds the maximum number of animals packed in together.