Society's Child
Even the snow can't keep the people's voice from being heard.


---
Abu Dhabi - Four Americans aboard a turboprop plane were killed when their aircraft crashed shortly after takeoff in the United Arab Emirates, US and Emirati officials said Monday.

Investigators were examining the wreckage to determine a possible cause for the fiery Sunday evening crash. The identities of those killed _ the only people on board _ were not immediately disclosed.

A statement by the US Embassy to local media said the plane was en route to Riyadh, Saudi Arabia, on the first leg of a trip back to the United States.
---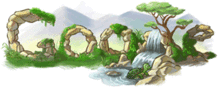 Google has announced a significant tuneup to its search mechanics that should help boost high-quality, original-content websites over "content farms" that pump out poor online postings.
In a
blog post,
Google staffers described how honing the search algorithms has affected nearly 12 percent of user queries since the upgrades were rolled out Wednesday (Feb. 23) in the United States
---
Hazardous chemicals that spilled from a derailed freight train onto the banks of Puget Sound on Saturday night could have produced an environmental catastrophe in Pierce County, according to a state Department of Ecology official. Twelve of the train's cars left the track, and some of them struck another train, causing two of its cars to derail.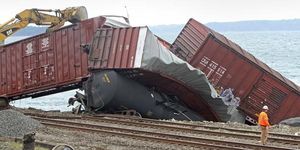 Hazardous chemicals that spilled from a derailed freight train onto the banks of the Puget Sound on Saturday night could have produced an environmental catastrophe in Pierce County, according to a state Department of Ecology official.
But only 50 gallons of highly corrosive sodium hydroxide, or lye, hit the shore in University Place near Tacoma, Ron Holcomb, a state hazardous-materials specialist, said Sunday. Holcomb said the lye would be diluted as it comes in contact with water, and any damage to aquatic life would "probably not be obvious."
"We're very fortunate," Holcomb said.
Four tank cars, each containing about 15,000 gallons of lye, were derailed near the shore. Only one car leaked, from two places, a valve and a hatch, he said. Emergency crews were able to seal and reduce those leaks to a drip by Sunday morning.
---
The winners of the Best Documentary Feature, Inside Job, Charles Ferguson and Audrey Marrs address the audience the 83rd Annual Academy Awards at the Kodak Theatre on February 27, 2011 in Hollywood, California.


Inside Job won the 2011 Academy Award for best documentary on Sunday night. The film's director used his acceptance speech to deliver pointed criticism of Wall Street and the financial industry.
---
TRIPOLI, Libya - The West moved to send its first concrete aid to Libya's rebellion in the east of the country, hoping to give it the momentum to oust Moammar Gadhafi. But the Libyan leader's regime clamped down in its stronghold in the capital, quashing an attempt Monday to hold new protests as residents reported skyrocketing food prices from the crisis.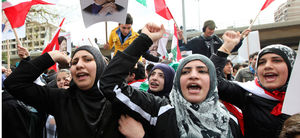 The two sides in Libya's crisis appeared entrenched in their positions, and the direction the uprising takes next could depend on which can hold out longest. Gadhafi's opponents, including mutinous army units, hold nearly the entire eastern half of the country, much of the oil infrastructure and some cities in the West. Gadhafi is dug in in Tripoli and nearby cities, backed by security forces and militiamen who are generally better armed than the military.
In the two opposition-held cities closest to Tripoli - Zawiya and Misrata - rebel forces were locked in standoffs with Gadhafi loyalists.
An
Associated Press
reporter saw a large pro-Gadhafi force massed on the western edge of Zawiya, some 30 miles (50 kilometers) west of Tripoli, with about a dozen armored vehicles and tanks and jeeps mounted with anti-aircraft guns. Residents inside the city said they were anticipating a possible attack.
---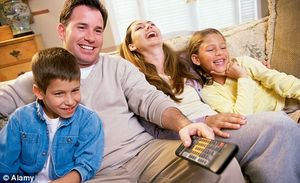 Those who enjoyed an idyllic childhood could find that life has a nasty trick in store because, it seems, they are more likely to divorce.
Researchers found that men and women with a stable upbringing could have more confidence and so be more ready to leave a failing relationship.
For the long-term project at Cambridge University, thousands of Britons born in one week in 1946 were studied.
When they were in their teens, teachers rated them for happiness, friendliness and energy. Problems such as restlessness, disobedience and anxiety were noted.
---
After his sitcom Two and a Half Men was canceled over a bizarre radio rant on The Alex Jones Show, actor Charlie Sheen sat down with ABC News to give more from his side of the story. Unfortunately, that's not what happened.

Asked if his recent behavior was indicative of drug use, Sheen's answer can only be described as bizarre.

"I am on a drug: it's called Charlie Sheen," he said. "It's not available 'cause if you try it, you will die. Your face will melt off and your children will weep over your exploded body. Um ... Too much?

"So, uh, yeah, no, it's, it's ... You know, again, I woke up. I decided I've been kicked around, I've been criticized, I've been that 'aw shucks' guy with like, this bitchin' rockstar life. I'm just finally gonna completely embrace it, wrap both arms around it and love it violently ... And defend it violently, through violent hatred."

Elsewhere in the interview, Sheen claims he has "tiger blood" running through his veins, adding: "My brain ... fires in a way that is, I don't know, maybe not from this particular terrestrial realm."

This video is from ABC News. The full interview will air Tuesday night on the program 20/20.
---
Stephen C. Webster
Raw Story
Sun, 27 Feb 2011 10:15 UTC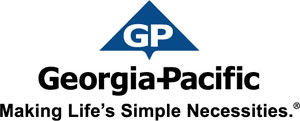 The decentralized protest group "Anonymous" has a new target: no, it's not a middle eastern dictator, a major bank or even a bit player in the military-industrial complex.
It's none other than tea party financiers Charles and David Koch, who were being targeted, an open letter stated, for their attempts "to usurp American Democracy."
"Koch Industries, and oligarchs like them, have most recently started to manipulate the political agenda in Wisconsin," an announcement posted to anonnews.org declared.
"Governor Walker's union-busting budget plan contains a clause that went nearly un-noticed. This clause would allow the sale of publicly owned utility plants in Wisconsin to private parties (specifically, Koch Industries) at any price, no matter how low, without a public bidding process," they explained. "The Koch's have helped to fuel the unrest in Wisconsin and the drive behind the bill to eliminate the collective bargaining power of unions in a bid to gain a monopoly over the state's power supplies.
The group, which was responsible for
taking MasterCard Worldwide offline
for an entire day -- along with numerous other organizations that plotted against secrets outlet WikiLeaks -- said it would now be "actively seeking vulnerabilities" in Koch industries.
"In a world where corporate money has become the lifeblood of political influence, the labor unions are one of the few ways citizens have to fight against corporate greed," the release added. "Anonymous cannot ignore the plight of the citizen-workers of Wisconsin, or the opportunity to fight for the people in America's broken political system. For these reasons, we feel that the Koch brothers threaten the United States democratic system and, by extension, all freedom-loving individuals everywhere."
They added that if one would like to withdraw their unknowing support for the brothers Koch, an array of products would need to be boycotted -- and not just by Americans, but people world-wide.
---
Brussels - European Union governments approved a package of sanctions against Libyan leader Muammar Gaddafi and his government on Monday, including an arms embargo and bans on travel to the bloc.

EU states also said they would freeze the assets of Gaddafi, his family and government, and ban the sale of goods such as tear gas and anti-riot equipment that can be used against demonstrators, diplomats said.

The decision, approved at a meeting of EU ministers in Brussels, was brought forward to ensure the measures are enforced as soon as possible, the diplomats said.

The measures are expected to come into effect in the coming days, once the regulation is published in the EU's official journal.
---