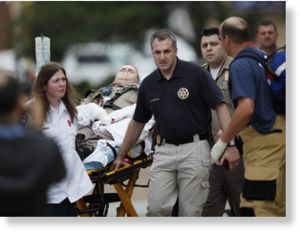 US: Tulsa, Oklahoma - A sheriff's deputy, a suspected gunman and a bystander were wounded Wednesday afternoon during an exchange of gunfire outside a Tulsa courthouse, sending people scattering from a crowded plaza as an employee at a nearby library used his camera to chronicle the events.
Police spokesman Leland Ashley said authorities responded to a report of a person firing into the air between the Tulsa County Courthouse and the library. Deputies, including the one who was wounded, exchanged gunfire with the shooter, Ashley said.
John Fancher, a communications coordinator with the library, told The Associated Press that he heard gunshots, then grabbed his camera and stood at his office window to take pictures.
"I see a guy barefoot nonchalantly just waving a gun in the air," Fancher said. "I'm thinking this is not the downtown I remember working in. I start snapping off some shots and he sits down, just casually sits down, gun in his hand and three sheriff's come out of the courthouse and I can't hear what they're saying."
Fancher said the man turned around and stood up with his gun.
"That's when (the deputies) did what they had to do," he said.
Ashley said injuries to the deputy and the bystander did not appear life-threatening.