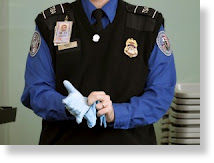 The Sturmabteilung-like Transportation Security Administration (
TSA
), which is run by the atrocious Department of Homeland Security (
DHS
), is arguably one of the single most destructive plagues on America.
With their thoroughly reprehensible "
grope-down
" procedure, not to mention reportedly
strip searching
multiple elderly women, harassment of
elderly terminal cancer patients
and the
severely mentally challenged
, and the potentially
dangerous
and ludicrously
costly naked body scanners
(which can be circumvented with
shocking ease
), the TSA has become a bit of a joke in the United States.
Not to be outdone, they have now introduced a program which allows travelers to pay $100 to take part in a program where they are able to skip the degrading, dehumanizing procedures the rest of us are subjected to every time we're unfortunate enough to travel by plane.