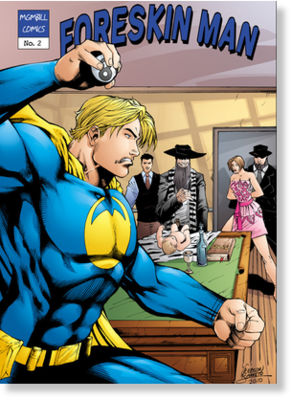 Even though they'd be a great medium for it, comic books aren't known for tackling sensitive social, religious or cultural topics in an overt way. People who read comic books are looking for fantasy and escapism rather than intellectual stimulation - just like people who read men's magazines. Maybe that's why a new comic produced by Matthew Hess, the president of
MGMBill
, an organisation that has authored a bill that has been submitted to the US congress to ban Male Genital Mutilation (hence MGMBill), has made the headlines recently.
Unashamedly titled
Foreskin man
, the comic book series features a blonde superhero doing battle with the evil 'Mohel' (Mohel being the Hebrew word for a Jewish person trained in the practice of
Brit milah
or
Bris
(circumcision).
I have to admit that my first reaction on hearing about the comic was 'what a good idea!', but when I saw the comic and the reaction it had received from certain quarters, my reaction was more along the lines of 'this the best idea since anti-Vegetarian man!'
It seems a little weird to me that I would actually have to write this but, I'm not exactly a fan of genital mutilation, regardless of the justification, hence my appreciation of
Foreskin Man
.
So circumcision, what's it all about?