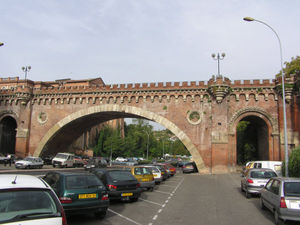 Translation by SOTT.net
A man appeared in court last Tuesday for beating up and eating the ear of a 42 year old father, last Friday in the streets of Montauban (South-Western France), says newspaper
La Dépêche
on Wednesday.
The incident happened last Friday around 9:30 pm, on the
Consuls Bridge
. A 31 year old, obviously drunk homeless man, provoked a fight with another man, who, unfortunately for him, was in the wrong place at the wrong time. During the fight, the attacker punched and kicked the victim, then ate two thirds of his right ear.
When they arrived on the spot, policemen and investigators couldn't locate the victim's ear bits. The victim was taken to Montauban's casualty department by the firemen.
The attacker, who was immediately arraigned last Tuesday, benefitted from an adjournment, but was kept in custody. The verdict will take place on the third of July.