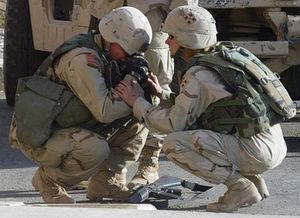 More US military personnel have taken their OWN lives than have died in action.
Here is a shocking statistic that you won't hear in most western news media: over the past nine years, more US military personnel have taken their own lives than have died in action in either the wars in Iraq or Afghanistan. These are official figures from the US Department of Defence, yet somehow they have not been deemed newsworthy to report. Last year alone, more than 330 serving members of the US armed forces committed suicide - more than the 320 killed in Afghanistan and the 150 who fell in Iraq (see wsws.org).
Since 2001, when Washington launched its so-called war on terror, there has been a dramatic year-on-year increase in US military suicides, particularly in the army, which has borne the brunt of fighting abroad. Last year saw the highest total number since such records began in 1980. Prior to 2001, the suicide rate in the US military was lower than that for the general US population; now, it is nearly double the national average.