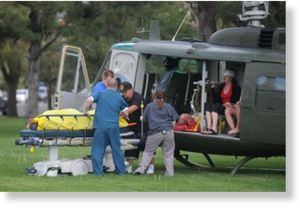 A World War II-era fighter plane flown by a veteran Hollywood stunt pilot plunged Friday into the edge of the grandstands during a popular air race, killing three people, injuring more than 50 spectators and creating a horrific scene strewn with smoking debris.
The plane, piloted by 74-year-old Jimmy Leeward, spiraled out of control without warning and appeared to disintegrate upon impact. Bloodied bodies were spread across the area as people tended to the victims and ambulances rushed to the scene.
Authorities were investigating the cause, but an official with the event said there were indications that mechanical problems were to blame.
Maureen Higgins of Alabama, who has been coming to the air races for 16 years, said the pilot was on his third lap of a race when he lost control.