A mountain lion has been killed only 70 miles from New York City.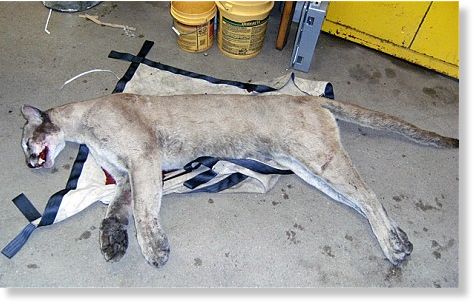 The 10 stone mountain lion was hit by a small SUV on a highway in Milford, Connecticut, early Saturday morning, and died from its injuries. The driver was unhurt, officials said.
With no native mountain lion population in the state, officials said it was "possible and even likely" it was the same enormous cat with a long tail spotted last weekend in the New York City suburb some 30 miles away, said Department of Environmental Protection spokesman Dennis Schain.
The large cat was transferred to a state environmental facility where authorities will use the photos, paw prints and other evidence collected near the three Greenwich sightings to determine if it is the same animal.
Travelling between the two US cities would be a jog for this large cat known to roam extensively, even up to a couple hundred miles in a day, said Schain.
The eastern mountain lion was officially declared extinct earlier this year, prompting authorities to suspect the animal spotted in the urban jungle of the New York City metropolitan area, had either escaped or was released from captivity.