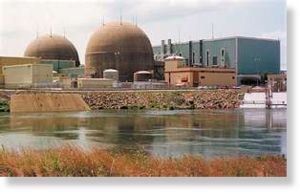 Richmond - A group of residents from Louisa County is demanding that Dominion Resources Inc. ensure its North Anna nuclear power plant is safe from past and future earthquakes.
About 20 people from the group Not On Our Fault Line protested Tuesday outside Dominion's Richmond headquarters. They chanted and held signs reading "Shut Down or Meltdown," as Dominion employees went out for their lunch breaks.
The group says the Aug. 23 earthquake that shut down the plant brought attention to the danger of another event in the area. They are asking Dominion to retrofit the two reactors at the plant to higher earthquake safety standards. It also is asking for the company to inspect underground pipes at the nuclear facility to make sure they aren't leaking into the ground or drinking water.
"What we're afraid of is that Dominion is putting profits over the safety of the area," said Paxus Calta, a resident of Louisa County for 13 years. "This earthquake is a big wakeup call to us."