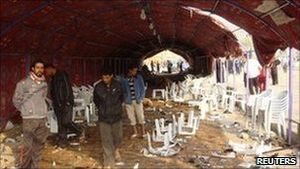 A car bomb has ripped through a funeral tent in a mainly Shia Muslim area of Baghdad, killing 48 people.
Officials say that another 78 people were wounded in the mid-afternoon blast in the north-western Shula district.
Angry mourners attacked police who rushed to the scene, accusing them of failing to provide protection.
The funeral attack comes after a series of bombings killed dozens of Shia pilgrims during their annual pilgrimage to the holy city of Karbala last week.
A spate of bombings in the past month against pilgrims, police recruits and security forces across Iraq has killed more than 170 people.
The recent rise in violence comes as the US military prepares to withdraw from the country at the end of the year.