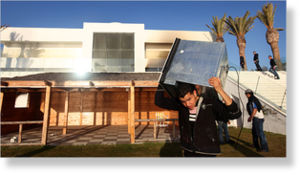 This ancient Mediterranean hamlet, advertised as the Tunisian St.-Tropez, has long been the favorite summer getaway of President Zine el-Abidine Ben Ali and his large extended family, many of whom have built vast beachfront mansions here with the wealth they have amassed during his years in power.
But their new and conspicuous riches, partly exposed in a detailed cable by the American ambassador and made public by WikiLeaks, have fueled an extraordinary extended uprising by Tunisians who blame corruption among the elite for the joblessness afflicting their country.
And on Thursday, idyllic Hammamet became the latest casualty of that rage, as hundreds of protesters swarmed the streets, the police fled and rioters gleefully ransacked the mansion of a presidential relative, liberating a horse from its stable and setting aflame a pair of all-terrain vehicles.
That outburst was just a chapter in the deadly violence that flared around the country and in Tunis, the capital, again on Thursday, making the government appear increasingly shaky. The mounting protests threaten not only to overturn a close United States ally in the fight against terrorism but also to pull back the veneer of tranquil stability that draws legions of Western tourists to Tunisia's coastal resorts.