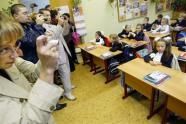 Moscow and two other cities shut their schools for a week Saturday and urged children not to play in groups in a bid to stamp out the worst flu outbreak to hit central Russia in more than a decade.
The Moscow education department's order covered more than 1,500 public and private elementary schools.
Education officials said this meant that nearly 500,000 children would get an unscheduled week-long vacation in the first such shutdown to strike the Russian capital since 1998.
"Even today, some classes are already missing half their students," an official with Moscow's health control service told the
Komsomolskaya Pravda
daily.
"The situation in Moscow is relatively favourable compared to what it is in the other regions" of central Russia, Alexander Gavrilov said.
Moscow's kindergartens would remain open and older children would not be affected. But officials have issued instruction for parents to take extra care with younger children and avoid spending too much time with them in public places.