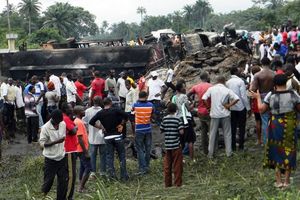 More than 100 people who went to scoop up oil from an overturned tanker in Nigeria have been burned to death after the vehicle caught fire, according to officials.
About 50 people suffered severe burns.
"Early this morning a tanker loaded with petrol fell in Okogbe and people trooped to the scene obviously to scoop the spilled fuel and suddenly there was fire resulting in casualties," Rivers State police spokesman Ben Ugwuegbulam confirmed.
Hundreds of people crowded around as soldiers and emergency workers lifted bodies into ambulances and police trucks.
The fuel tanker was a pile of smouldering ash, twisted metal and melting tyres.
Fuel leaks and oil tanker accidents in Nigeria often draw huge crowds scrambling to scoop fuel, resulting in many deaths due to accidental fires.