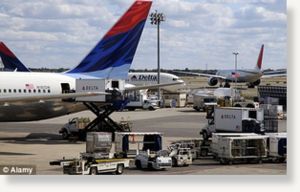 An orthodox rabbi has been convicted of groping a female Israeli army officer on a transatlantic flight to New York.
Gavriel Bidany, a 47-year-old father of 11 children, reached out under a blanket and fondled the woman twice as she slept next to him on the Delta Airlines flight to JFK.
Bidany, who is also Israeli, tried to claim he accidentally touched her in his sleep, but a Brooklyn magistrate yesterday dismissed his testimony as 'not worthy of belief'.