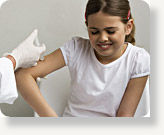 Carrboro City School (CHCCS) district in North Carolina has launched a shocking new vaccination contest that offers prize incentives to students who get vaccinated. According to the CHCCS district website, for each vaccine a student receives, he or she will also receive an entry into a drawing to win an Apple iPod or a laptop computer -- and students that get the entire recommended vaccine schedule, which includes the Human Papillomavirus (HPV) vaccine for both boys and girls, will be allowed extra entries into the contest and more chances to win than other students.
According to the CHCCS website, the three vaccines being promoted are the Meningococcal vaccine, the Tdap (tetanus, diphtheria, pertussis) combination vaccine, and the HPV vaccine. Between April 1, 2011, and May 31, 2011, students are encouraged to get one or all of these vaccines, and present proof to their school nurse before June 1. Those that do will receive individual entries for each vaccine, and four entries total if they get all three.
The stunt is taking place under the leadership of superintendent Neil Pedersen, and is being promoted by both school nurses and the Orange County Health Department. The CHCCS information page explains that the contest was made possible by a donation from a family whose daughter allegedly died from meningococcal disease, but it does not explain why the Tdap and HPV vaccines are also included in the vaccine drive.