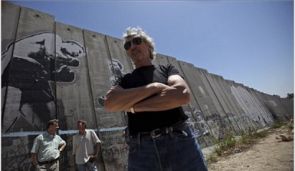 The Anti-Defamation League (ADL) is criticizing what it says is the dark side of Pink Floyd legend Roger Waters, claiming imagery the British rock icon used in his latest tour is anti-Semitic, FOXNews.com reported Tuesday.
Waters, a longtime vocal critic of Israel, takes aim at the Jewish nation's West Bank security fence during a segment of his 2010-2011 "The Wall Live" tour by using imagery associated with stereotypes about Jewish people and money, ADL officials say.
During Waters' recent performances of "Goodbye Blue Sky," an animated scene has projected images of planes dropping bombs in the shape of Jewish stars of David, followed by dollar signs -- an "outrageous" juxtaposition, according to Abraham Foxman, ADL's national director.