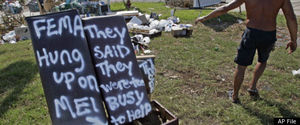 New Orleans -- Nearly six years have passed since Hurricane Katrina drowned New Orleans in misery, but many residents haven't forgiven the Federal Emergency Management Agency for its sluggish response to the storm. Now another delayed reaction by FEMA - a stop-and-start push to recoup millions of dollars in disaster aid - is reminding storm victims why they often cursed the agency's name.
As a new hurricane season begins Wednesday, FEMA is working to determine how much money it overpaid or mistakenly awarded to victims of the destructive 2005 hurricane season. The agency is reviewing more than $600 million given to roughly 154,000 victims of hurricanes Katrina, Rita and Wilma and is poised to demand that some return money.
FEMA already has sent letters to thousands of victims of other disasters, asking them to return more than $22 million. Letters to victims of the 2005 hurricanes could go out in a matter of months, but it's too soon to tell how many people will be told to repay or how much money is at stake.
The effort isn't sitting well with victims who spent the money years ago and who could need help again if another powerful storm hits. It's of little consolation that FEMA says procedural changes since 2005 mean future disaster victims aren't likely to have to deal with large recalls of cash.