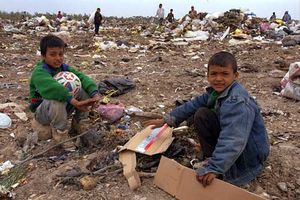 The air is filled with the noise of the Israeli F-16s, which are flying so low that it's almost like the air is trembling. You can positively feel the bombs before they fall, before they explode with a horrendous bang, that is unmistakable, with a pressure wave that breaks the windows of the houses in the whole surrounding area, and makes the walls shake miles away.
And even if you know rationally that you are not in an immediate danger, this bang triggers a primal fear, the feeling of vulnerability, of being absolutely exposed. "We people of Gaza die hundreds of times", a young Palestinian woman said. "In our thoughts, we are buried every night under the rubble of our crumbling house, we are shot every morning by a sniper on a carelessly chosen path, we may starve to death every day, because no more food is coming in."
This night four bombs fall, three in the middle area of Gaza Strip, one in Khan Younis. All places have been declared "terrorist targets" in the official statement of the Israeli military, including a Navy police building.
They fly overhead for about an hour, and you try to ignore the noise by focusing on something else, on your laptop, the text before you. The people of Gaza might watch TV, but the images are constantly disturbed by dozens of drones in the sky above. Their pervasive, never-ending buzz can drive you crazy, not to mention the prospect of how they record every single detail of each house, each car and each movement of the people, of yourself. Always aware of how they can transform into a deadly weapon at any moment. And perhaps their bombs aren't aimed at yourself, but at the car next to you, the person behind you, or at the friend on the motorcycle seat in front of you. This happened yesterday afternoon in Khan Younis, as a resistance fighter was executed in broad daylight as he rode his motorcycle with a friend.
Whoever writes about Gaza, whoever writes about the buffer zone without writing about the rockets, which are shot from there to Israel, is accused of writing only half the truth. Half of the truth about farmers being killed, stone collectors who are shot at, and bombs in the night. The other half of the truth would then be the approximately 20 mortar shells and missles that have landed in Israel since the beginning of the year, the Israeli soldier who died by "friendly fire", which was actually aimed at a Palestinian, and the Thai workers, who were injured by fragments of a missile. The whole truth would then be a mutual terror, incited on both sides, and in which both parties would be equally responsible for the spiral of violence.