An Indiana high school expels a student for a silly, profane tweet, even though it seems to have been sent at 2:30 a.m. The school suggests that it may track all of its students' tweets, regardless of what time or where they were sent.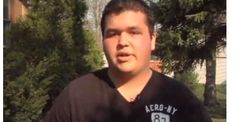 I am sure that the people who run Garrett High School in Indiana radiate intelligence.
Perhaps, though, they have tossed a little inkblot onto their pristine record with the expulsion of senior Austin Carroll. He didn't assault anyone. He didn't toss a projectile, nor brandish a knife. No, it seems that he merely tweeted.
Please prepare your best judgmental pose while I transcribe (mostly) his supposedly most offensive tweet: "F*** is one of those F****** words you can F****** put anywhere in a F****** sentence and it still F****** makes sense."
There, how did that feel? Juvenile? To some, perhaps. Amusing? Mostly to his peers, surely. But offensive? Offensive enough to get him thrown out of school, with a mere three months of his time there left to serve? With this, some might struggle.