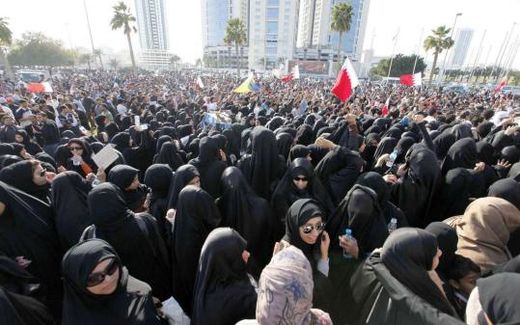 Manama -- Bahrain -- Thousands of demonstrators poured into this nation's symbolic center, Pearl Square, late yesterday in a raucous rally that again demonstrated the power of popular movements that are transforming the political landscape of the Middle East.
In a matter of hours, this small, strategically important monarchy experienced the now familiar sequence of events that has rocked the Arab world. What started as an online call for a "Day of Rage'' progressed within 24 hours to demonstrators cheering, waving flags, setting up tents, and taking over the grassy traffic circle beneath the towering monument of a pearl in the heart of the capital city.
The crowd grew bolder as it grew larger, and, as in Tunisia and Egypt, modest concessions from the government only raised expectations among the protesters, who by day's end were talking about tearing the whole system down, monarchy and all.