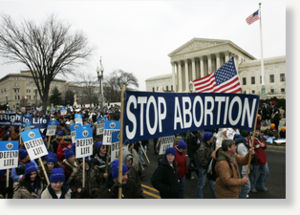 Thousands of bundled-up abortion opponents rallied Monday on the Mall, encouraged by recent federal and state GOP wins and hopeful about proposed measures that would further tighten bans on federal funding for abortions.
The Youth Rally and Mass for Life, hosted by the Archdiocese of Washington, marked the 38th anniversary of
Roe v. Wade
, the Supreme Court decision that legalized abortion. Annual events tend to focus on mobilizing the young, and Catholic high schools, youth groups and colleges were out in force Monday in Washington.
For the first time, a morning Mass at Verizon Center was expanded to the D.C. Armory, where a parallel event was held. More than 27,000 young people attended the events, which began after dawn and included readings by youths in hooded sweatshirts and jeans, contemporary praise music and dozens of priests hearing confessions in the sports arena's dining area.
The Rev. Mark Ivany of the Catholic Church of the Little Flower in Bethesda, who delivered the homily at Verizon Center, compared attendees to activists from previous eras who fought against slavery and for women's right to vote.
"The greatest difference between other civil rights movements and this one is that most of the people affected by
Roe v. Wade
can't march on Washington," Ivany said. "They can't give great speeches."
The Verizon Center crowd spilled on to downtown streets to join a premarch rally on the Mall about noon. Some signs and buttons were evergreen: "De-fund Planned Parenthood," "I was adopted not aborted" and "I regret my abortion." Others mentioned President Obama, whom the movement hopes will be challenged by recently elected conservatives. "Stop the Obama abortion agenda," a common sign said.