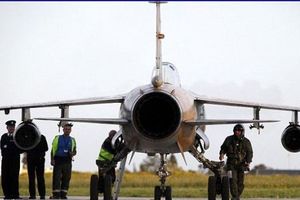 A plane possibly carrying Gaddafi's daughter has been refused a permission to land and was sent back to Libya after flying over Malta in an unscheduled flight, reports say.
Malta International Airport denied landing rights to a Libyan Arab Airlines aircraft, reported to be carrying Libyan tyrant Colonel Muammar Gaddafi's daughter, Ayesha, on Wednesday.
The plane circled for 20 minutes before heading back to Libya, Reuters reported.
A plane carrying several family members and Gaddafi's wife to her home country of Lebanon was also denied a landing permission.
The pilot of the ATR42 turboprop aircraft provided the airport with details from a previous flight, supposed to have landed in Malta on Tuesday, reports said.