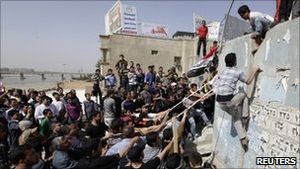 At least nine people have been killed in anti-government protests in Iraq as thousands take to the streets in cities across the country for a "day of rage".
Baghdad has been virtually locked down, with the authorities banning traffic in the city centre and deploying several thousand soldiers on the streets.
Still, several hundred people gathered in Baghdad's own Tahrir Square, calling for reform, but not regime change.
Mass demonstrations are also being held elsewhere in the Middle East.