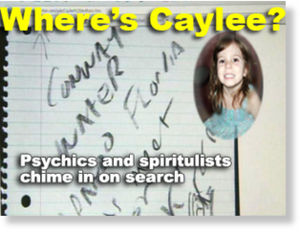 Cindy Smith calls herself a spiritualist and not a psychic. Smith has spoken with the Anthony family and on Monday, she spoke with investigators to say that she knows where missing Orlando toddler Caylee is.
With few clues in the search for the missing three year old, some have suggested that the Anthonys turn to the world of the paranormal for leads.
Cindy Anthony claims that her family has not consulted with a psychic. She denied such a meeting when questioned by FOX 35. "No. No, we haven't," she said with a look of amusement. "It's not funny, but it is. You know there are probably people out there who have a power or a gift. We're told that they're following up on those as well."
Two weeks ago, FOX 35 crews observed Cindy Smith leaving the Anthony home. Smith shared details of her visit. "I told her (Cindy Anthony) 'I was gonna bring her home,' that 'she was not going to be happy, but I was going to bring her home' "
Smith claims she can "see things" by laying her hand on a person's belongings. She stopped short of describing these visions as those of clairvoyance.