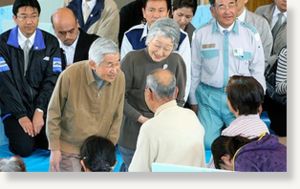 Emperor Akihito and Empress Michiko meet evacuees in Asahi city, where 13 people died in the earthquake and tsunami
Japan's emperor has made his first trip to the disaster zone since last month's earthquake and tsunami.
Emperor Akihito and Empress Michiko visited two evacuation shelters in Asahi city, near the Pacific coast. They knelt on mats and spoke quietly with evacuees, who bowed deeply. Some wiped tears from their eyes.
Thirteen people died in the city and 3,000 homes were damaged or destroyed. The emperor and empress plan additional visits to other tsunami-affected areas in coming weeks.
More than 26,000 people are believed to have died in the disaster. About 11,250 bodies have been recovered so far.