"Our music was far from political or antiwar...I never felt comfortable with political advocacy."
- John Phillips
"There were no political speeches or overt protest songs performed."
- John Phillips, discussing the Monterey Pop Festival, of which he was a key organizer
Thus far on this journey, we have seen how what are arguably the two most bloody and notorious mass murders in the history of the City of Angels - the Manson Family murders of the occupants of the home on Cielo Drive in Benedict Canyon, and the so-called Four-On-The-Floor bludgeoning murders of four Laurel Canyon drug dealers on Wonderland Avenue - were directly connected to the Laurel Canyon music scene.
But the city of Los Angeles can boast of one other particularly notorious murder, which stands to this day as both the most gruesome single-victim murder and the most famous unsolved murder in the city's history.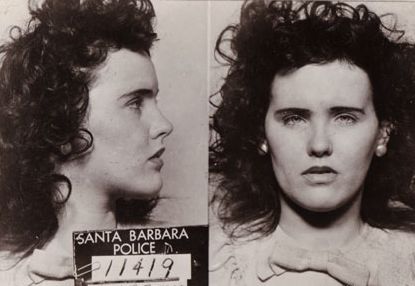 On January 15, 1947, the mutilated body of aspiring actress Elizabeth Short was found posed in a field. The ritualistically butchered body was nude, sliced cleanly in half, and completely drained of blood. Parts of the body had been removed, after which the corpse had been thoroughly sanitized. Bruising clearly indicated that the young girl had been savagely beaten. Forensic evidence suggested that she had been forced to eat feces during her tortuous ordeal. She was quickly dubbed the 'Black Dahlia,' and it is by that name that she is known and written about today.