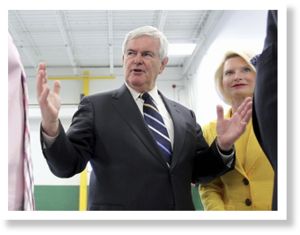 Washington - The entire top echelon of Newt Gingrich's presidential campaign resigned on Thursday, a stunning mass exodus that left his bid for the Republican nomination in tatters.
But the former House speaker vowed defiantly to remain a candidate.
"I am committed to running the substantive, solutions-oriented campaign I set out to run earlier this spring," the Gingrich said in a posting to his Facebook page shortly after the 16 aides resigned. "The campaign begins anew Sunday in Los Angeles."
Rick Tyler, Gingrich's spokesman, said that he, campaign manager Rob Johnson and senior strategists had all quit, along with aides in the early primary and caucus states of Iowa, New Hampshire and South Carolina.
Other officials said Gingrich was informed that his entire high command was quitting in a meeting at his headquarters in Washington. They cited differences over the direction of the campaign.