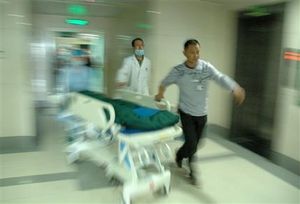 An attacker with a cleaver hacked to death seven children and two adults at a kindergarten in northwest China on Wednesday, the latest in a string of savage assaults on the country's schools. Eleven other children were wounded.
The killer, 48-year-old Wu Huanming, returned home after the attack on the outskirts of the city of Hanzhong and committed suicide, the local government reported. A motive wasn't known, although reports indicated he and the school administrator may have known each other.
It was the fifth such major assault on young students in China since late March
and occurred despite increased security at schools countrywide, with gates and security cameras installed and additional police and guards posted at entrances.
The latest deaths were sure to fuel speculation about why assailants - usually lone males - are targeting schools. Sociologists say it reflects a lack of support for the mentally ill and rising stress resulting from huge social inequalities in China's fast-changing society.