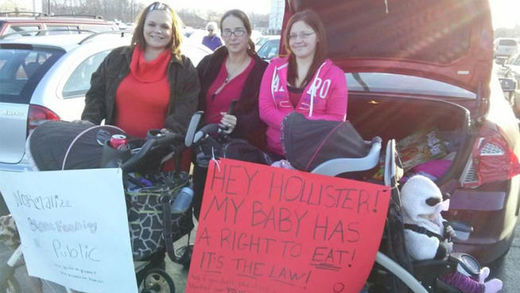 Diana Hitchens, Autumne Murray and Jessica Hitchens all say their message was clear when they arrived at the Hollister store at the Concord Mall in Delaware Saturday afternoon. The three women were staging a nurse-in to raise awareness about a woman's right to breastfeed in public. The protest from the three mothers was in response to an incident at a Houston, Texas mall in which a Hollister store manager threw out a mother who was breastfeeding inside the store. The mothers carried posters which read, "Hey Hollister, my baby has a right to eat. It's the law," as well as "Normalize breastfeeding in public. Do you eat in public? Why shouldn't our babies?"
"We walked through the store and the employees asked if we needed help with anything," said Diana Hitchens of Elkton, Maryland. "We were actually nursing as we were walking through the store."
But in the midst of their protest, the three mothers say they encountered some problems of their own. Moments after they staged a sit-in, mall security arrived.
"Two security guards walked up to us," said Autumne Murray of Elkton, Maryland. "They started questioning us and asking us why we were exposing ourselves and saying that we needed to leave or cover up. We got in an argument with them about it for a little bit and then they left."