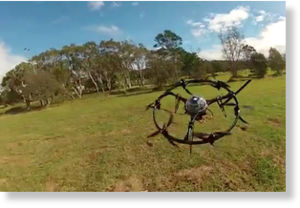 The use for
unmanned drones
increases every day. This time it's to keep an eye on the beaches of Queensland, Australia to look out for swimmers in trouble - and, of course, any
sharks
lurking too close.
Surf Life Saving Australia will be deploying the Aerobot Ring, a co-axial hexacopter, in a trial of the drones' effectiveness. The drones are roughly three feet wide and have a payload capacity of around 15 pounds for a flight time of 15 minutes. They'll carry
cameras
to keep an eye on the water, as well as life buoys to drop to those in distress. Plus, there's a siren to warn people of potential trouble before it happens.
Should the tests prove to be successful, Brett Williamson, head of Surf Life Saving Australia would like to see the trials expanded to patrol many of Australia's remote beaches unmanned by lifeguards.