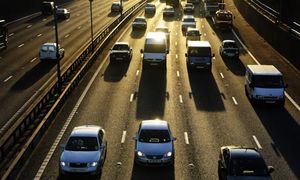 Report sets out how transport, water, power and communications systems can be made more resilient to effects of climate change
Generating power from human waste and resurfacing the UK's road network are among the recommendations made by engineers in the most extensive study to date of how to protect the country's infrastructure from the worst effects of climate change.
Extreme weather events such as floods, droughts, heatwaves and more intense storms are expected to become more common as the world warms. This means vital infrastructure - including transport, sewage and water treatment, and electricity and communications networks - is vulnerable to severe damage. But the UK is unprepared for these effects, according to the leading professional bodies for engineers.
"We need to have a debate on this - it all depends on what politicians are prepared to do," said David Nickols, chair of the water panel at the Institution of Civil Engineers, and one of the authors of the report published today by the Royal Academy of Engineering and seven other professional engineering bodies, representing nearly half a million engineers.
The engineers said all of the country's infrastructure could be rendered more resilient to the probable effects of climate change, but this would require new regulations from the government.