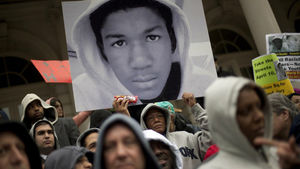 A Florida policeman has been fired for using photos of 17-year-old Trayvon Martin, shot and killed last year by a neighborhood watchman, for target practice. Martin's family attorney condemned the act as "depraved."
Sgt. Ron King of the Florida's Port Canaveral Police Department allegedly offered paper shooting targets emblazoned with Martin's image to two other officers, an internal review revealed. He was dismissed on Friday for possessing a number of such shooting targets.
"Port Canaveral Police Department considers that behavior unacceptable," John Walsh, CEO of the Port Canaveral Authority said. King reportedly acquired the paper targets online and brought them to a firearms training session.