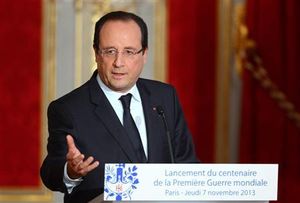 The French government plans to defer by six months the introduction of a new levy on heavy trucks at the heart of a gradually spreading anti-tax revolt,
Le Monde
newspaper reported on Saturday.
President Francois Hollande's government is struggling to rein in the public deficit, but it has had to suspend the January 1 application of the tax, without bowing to protesters' demands for it to be scrapped altogether.
Voicing concerns about the government's ability to cut the deficit in the face of violent protests, Standard & Poor's cut France's credit rating on Friday to AA from AA+.
Le Monde
reported that the government intended to wait to apply the tax, which is supposed to bring in more than one billion euros (£830.2 million) per year, until July after municipal and EU elections in March and May, in which Hollande's Socialists risk big losses.
An official with Prime Minister Jean-Marc Ayrault's office would not confirm the report, but said the tax had not been entirely scrapped.
Increasingly under pressure over France's high fiscal burden, the government already dropped a planned change in corporate tax unpopular with business and has ditched new charges on special savings products.