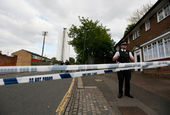 Two men attacked another man near a London military barracks Wednesday, in what British authorities were investigating as a possible terror act. One man is dead and two others were injured.
While details were scant, Prime Minister David Cameron called the killing "truly shocking" and said he had asked Home Secretary Theresa May to call an urgent meeting of the government's emergency committee.
A British government official who spoke only on condition of anonymity because he was not authorized to speak about the investigation said the details that had emerged were indicative of a "terrorist-motivated attack."
May said she had been briefed by Britain's domestic security service, MI5, and by police on what she called a "sickening and barbaric" attack.
Britain's Ministry of Defense said it was urgently investigating reports that a serving soldier was involved in the incident.
Police said armed officers responded to reports of the assault Wednesday afternoon just a few blocks from a military training barracks in southeast London.
Commander Simon Letchford said reports indicated that one man was being assaulted by two other men, and that a number of weapons - including possibly a firearm - were used in the attack.