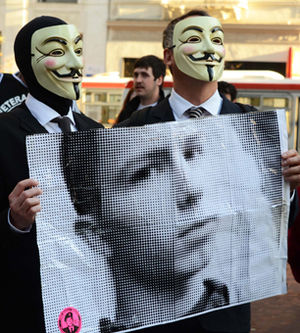 Spc. William Millay, a 25-year-old military policeman, was sentenced this week to 19 years in jail; a sentence reduced to 16 years after a plea deal, minus time served, for attempting to commit espionage and for illegally communicating "unclassified national defense information that could be used to the advantage of a foreign nation," according to
an Army press release
.
The prosecution of Spc. Millay is strikingly lenient relative to that of Pfc. Bradley Manning, 25-year-old intelligence analyst on trial for passing documents to WikiLeaks. Manning sought to expose documents revealing crimes, abuse, and corruption to the American people, through WikiLeaks, and he faces a potential life sentence.
The government charges him with Espionage and with 'Aiding the Enemy.'
Millay "admitted to trying to pass on classified information to someone he believed was a Russian agent,"
according to
Reuters' report
. An FBI agent said, "Millay betrayed his nation's trust by attempting to sell classified national defense information for profit to a foreign nation."
Contrast that motive with Bradley Manning's. In
chat logs
with government informant Adrian Lamo, Manning hypothesized, "what if i were someone more malicious...i could've sold to russia or china, and made bank?"