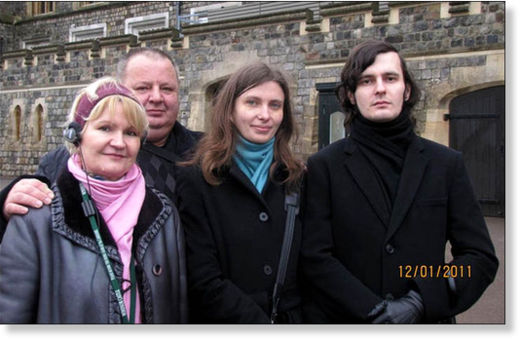 Daria Kuchuk, 35, born in Omsk, had followed her mother to Scotland in search of a new life, but her quest ended in tragedy.
Our exclusive pictures show Daria - who was an academic high achiever in Siberia, Moscow and at Oxford University in England - with her long-time boyfriend Igor Pavlov, 27, from Moscow. The couple died from cyanide poisoning after checking into a $500 a night room at The Scotsman five star hotel in Edinburgh, one of the best in Scotland.
It was close to a flat they shared near the Royal Mile in the heart of the Scottish capital. The couple died on 1 August but these are the first pictures of the couple, obtained by
The Siberian Times
. They show the couple with Igor's parents several years ago in the UK. In one, they are posing with the wax models of Queen Elizabeth II and Prince Philip at tourist attraction Madame Tussauds.
Family friends of 35 year old Daria (Dasha) from Siberia spoke of the 'appalling shock' of her death and the 'waste of such a brilliant mind'.
'They were not officially married but it is known that they lived together as partners for a considerable time,' said a spokesman for the Russian Foreign Ministry press centre in Moscow. 'As far as we know neither of them had children'.