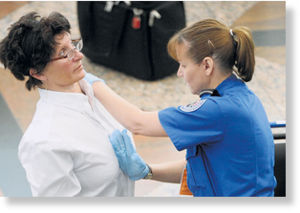 The Thanksgiving holiday could turn fractious in airports all across the United States next week as public mutiny mounts over the recent introduction of new body scanners that leave little to the imagination and more thorough pat-down procedures at already congested check-points.
The furore has divided the country between those who believe that security comes first and that probing, prodding and scanning is acceptable and others who consider a line has been crossed into groping, exposure and touching of private parts that might amount to sexual molestation.
It was enflamed by one sentence uttered by a California man arriving for a flight in San Diego a week ago that has become a rallying cry for those now in rebellion. "If you touch my junk I'll have you arrested," he told a security officer. A stand-off ensued with the passenger, identified as John Tyner, a former professional cyclist, going back home rather than putting his "junk" at risk of contact.