Food prices in Britain are rising at three times the rate of the world's seven biggest economies.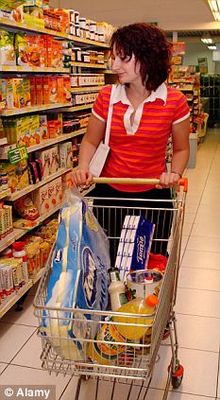 Figures from the OECD put UK food inflation at 6.3 per cent, well ahead of the average of 2.1 per cent for the G7 group of nations.
The cost of putting meals on the table is also rising much faster than most of Europe.
The average annual rise in Ireland is only 0.3 per cent, while it is running at 0.1 per cent in France, 0.8 per cent in the Netherlands and 2.1 per cent in Belgium.
The figures will anger British shoppers amid mounting suspicion that UK supermarkets are turning the screw on consumers to boost profits.
The OECD said only Turkey, Estonia, Hungary and Korea had a higher rate of food price inflation among the 34 countries it surveyed.
There is a suggestion that the 'big four' supermarkets - Tesco, Sainsbury's, Asda and Morrisons - have used concerns about increasing global commodity prices to push through unfair increases.