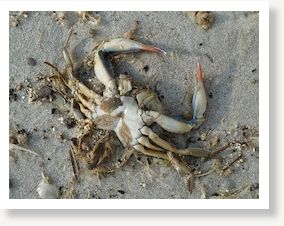 Just this past week I decided to leave my job as a food server at a casino in Hancock County, Mississippi. I've worked in tourism for 15 years. I just could not continue to serve Gulf seafood to unsuspecting tourists and locals after the BP disaster. There were other reasons for my leaving as well, but risking people's health and pretending things are normal is totally against what I believe in.
It started when a random guest asked me where our lemon fish comes from, known down here as cobia. I asked our kitchen staff, and they finally received the answer from one of the higher up chefs; "It comes from the Gulf." My reaction, as a concerned server and coastal resident, was, "Are you serious? Why are we serving Gulf seafood?" They said, "The FDA said it is safe."
I started questioning and challenging this, knowing that the oil is still out there and the
FDA testing procedures are inadequate.
But I got no result. It was left up to me to warn my guests when they ordered Gulf seafood, and risk my job. I knew that sooner or later I was going to get in trouble with the casino, so I decided to resign and change my life so that I could make a difference.
My name is Laurie Gayle Lambert. I am almost 38 years old and I grew up on the Mississippi Gulf Coast. I watched beautiful Bay St. Louis and Waveland grow throughout my life. I moved away in 2003, then had to watch on TV from up North in Ohio when my hometown was devastated by Hurricane Katrina. I felt helpless. Now it is my time to help the Gulf Coast.
The one-year marker of our country's worst man-made disaster in history is coming up, and there is no recovery in sight. But the majority of our nation, including some of our local residents here on our Gulf Coast, thinks the BP oil disaster is all over. They are unaware and uneducated about the danger we are in now, from threats to our environment and health. Clean-up workers, average vacationers, and Gulf Coast residents (even those living 100 miles inland) are being affected, and most of them do not know it.