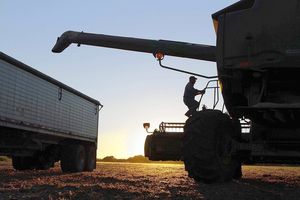 Bouncing down a dirt road a couple of summers ago, past a gentle patchwork of barnyards and soybean fields in central Iowa, farmer Kent Friedrichsen strained over the steering wheel of his van and stared through the windshield in dismay.
His soybean fields, where he'd used seeds developed by Monsanto Co. and sprayed with its popular glyphosate weed killer Roundup Ready, were littered with yellowed leaves and dead plants. Four days earlier, the plants had been waist high and emerald green.
Nearby, in fields where he had planted seeds that weren't genetically engineered and didn't use glyphosates, the soybean plants were still healthy and lush.