The Founding Fathers described the kind of country they were shaping on July 4, 1776 with the most well known sentence in the English language:
We hold these truths to be self-evident, that all men are created equal, that they are endowed by their Creator with certain unalienable Rights, that among these are Life, Liberty and the pursuit of Happiness. - Declaration of Independence
In 1776, America was an idea born of noble intentions. An idea that every citizen had the opportunity to succeed, prosper and achieve based upon their hard work and abilities. The government did not provide advantages or a safety net for its citizens. People were free to succeed or fail based upon their own merits. America had a frontier spirit because it was still a frontier. Individual effort, intellect and willingness to sweat allowed you to move up the socio-economic ladder. The government provided a National Defense, and very little else. In 1794, the country had a population of 4.4 million and a GDP of $310 million. Government spending totaled $7.1 million, or 2.3% of GDP, and was split between Defense and interest on the Revolutionary War debt. Today, Federal Government spending totals $3.7 trillion, or 25% of GDP.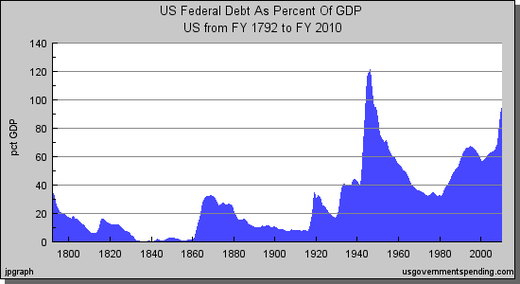 James Truslow Adams in his 1931
Epic of America
described the America that once existed in reality, but only exists as a phantom today:
"The American Dream is that dream of a land in which life should be better and richer and fuller for every man, with opportunity for each according to ability or achievement. It is a difficult dream for the European upper classes to interpret adequately, also too many of us ourselves have grown weary and mistrustful of it. It is not a dream of motor cars and high wages merely, but a dream of social order in which each man and each woman shall be able to attain to the fullest stature of which they are innately capable, and be recognized by others for what they are, regardless of the fortuitous circumstances of birth or position."

"The American Dream that has lured tens of millions of all nations to our shores in the past century has not been a dream of material plenty, though that has doubtlessly counted heavily. It has been a dream of being able to grow to fullest development as a man and woman, unhampered by the barriers which had slowly been erected in the older civilizations, unrepressed by social orders which had developed for the benefit of classes rather than for the simple human being of any and every class." - James Truslow Adams - Epic of America