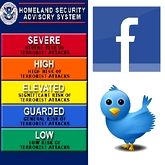 DHS overhauls alert system and will start using social nets
The U.S. government may start issuing terror alerts using Facebook and Twitter, according to a news service report.
The
Associated Press reported
Thursday that the U.S. Department of Homeland Security is working to overhaul the current color-coded terror alert system. The new system, according to the report, would have only two levels of alerts -- elevated and imminent.
Those alerts would be relayed to the public in part via social networking sites Facebook and Twitter .
The AP article is based on a 19-page draft of the plan that the news service obtained.