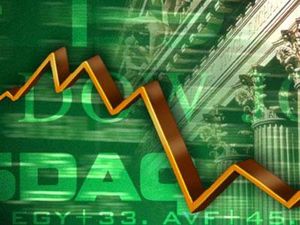 Libya's escalating political crisis sparked a sharp sell-off in U.S. stocks Tuesday, with the three major indexes posting their biggest one-day drops of the year, as oil prices continued to skyrocket.
Ongoing weakness in the housing market also added pressure after a report showed that national home prices fell 4.1% during the fourth quarter of 2010.
The Dow Jones industrial average (INDU) sank 178 points, or 1.4%. That was its worst decline since November. Wal-Mart (WMT, Fortune 500) was one of the biggest losers on the Dow, with shares down 3% after the retailer reported disappointing U.S. sales figures.
The S&P 500 (SPX) dropped 28 points, or 2.1%, and the tech-heavy Nasdaq (COMP) shed 78 points, or 2.7%. Those were the biggest drops since August for both indexes.
The CBOE volatility index (VIX), which is known as the VIX and is used to gauge fear in the market,jumped almost 30% Tuesday.