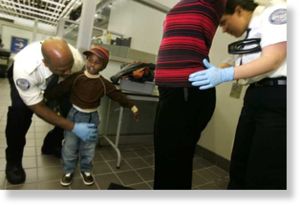 There's been little discussion about the euphemistically-named full-body "pat downs" taking place in US airports as they effect
children
.
We've put up numerous videos now of very young children being stripped searched in public, touched against their will, and, in any other place and under any other circumstances, molested by TSA screeners.
Parents are counseled to tell their children that these "screenings" are a game.
The US news media's comment on this?
Deafening silence.
Instead they ask us if we aren't being "too sensitive" and tell us there needs to be a "balance between security and privacy." Children are being taught that anyone in uniform has free access to their bodies...that they can't say "no"...and that their parents are unable to protect them. In turn, parents are being taught that they cannot protect their children.
The only word that comes to my mind to describe this enterprise is "criminal."