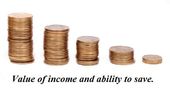 Families' disposable income dived by a record £9 a week during January as inflation continued to outstrip wage growth, research has indicated.
The average family had £174 a week left to spend after meeting all of their essential outgoings, down from £183 a week in January last year, according to supermarket group Asda.
It was the 13th consecutive month during which people suffered a year-on-year fall in their disposable income, while it was also the biggest drop recorded since Asda first began collecting the data in January 2007.
The group said the continued decline in spending power seen during 2010 and into 2011 was caused by the price of essential goods and services rising faster than net incomes.
Inflation as measured by the Consumer Price Index rose to 4% in January, but average incomes rose by just 2.4% during the previous 12 months.