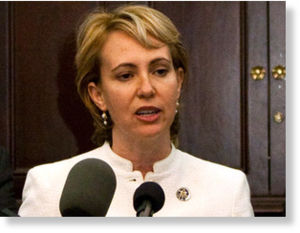 It has been almost three days since Congresswoman Gabrielle Giffords was shot in the head in Arizona. Tuesday morning she remained in critical condition at a hospital in Tucson. Dr. Max Gomez reports on how she was able to survive such a devastating injury and what will determine how much function she may recover.
Giffords is heading into the most critical time in her recovery, when her brain will usually reach its maximum swelling after the gunshot wound.
"The brain will swell. If the brain is within the closed box of the skull, it has nowhere to swell, and it starts compressing or injring the normal, good part of the brain," said Dr. Philip Stieg of New York-Presbyterian/Weill Cornell.
To allow the brain to swell, surgeons actually removed a large portion of the congresswoman's skull and reportedly have stored it in the refridgerated bone bank for later replacement after the brain swelling subsides.
That bone may be contaminated after the gunshot and doctors may use a prosthetic bone later.