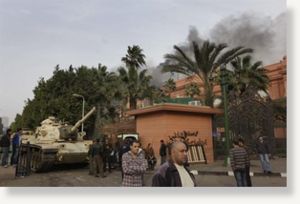 Looters broke into the Egyptian Museum during anti-government protests late on Friday and destroyed two Pharaonic mummies, Egypt's top archaeologist told state television.
The museum in central Cairo, which has the world's biggest collection of Pharaonic antiquities, is adjacent to the headquarters of the ruling National Democratic Party that protesters had earlier set ablaze. Flames were seen still pouring out of the party headquarters early on Saturday.
"I felt deeply sorry today when I came this morning to the Egyptian Museum and found that some had tried to raid the museum by force last night," Zahi Hawass, chairman of the Supreme Council of Antiquities, said on Saturday.
"Egyptian citizens tried to prevent them and were joined by the tourism police, but some (looters) managed to enter from above and they destroyed two of the mummies," he said.