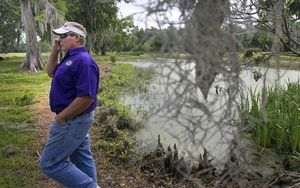 A year after the
Deepwater Horizon
exploded 60 miles south of his Buras hunting and fishing lodge,
Ryan Lambert
can distill his opinion of BP and the oil industry down to one word: Liars.
It's an opinion he never thought he'd have.
"The fishing industry has always lived side-by-side with the oil industry down here in Plaquemines Parish, and they've always told us that if anything happened, they would take care of the problem -- they would repair the damages and they would make us whole -- and I believed them," said Lambert, whose
Cajun Fishing Adventures Lodge
is one of the state's largest.